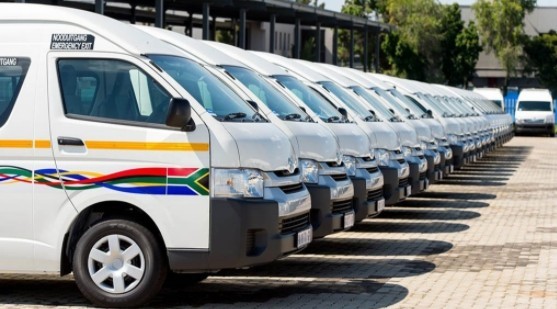 Cape Town-based holding company, CanbiGold, has designed a conversion to the standard air-ventilation system in vehicles for the dispersion of hypochlorous acid (HOCL), which it says has proven to be effective in the fight against coronaviruses.
"There are more than 200 000 minibus taxis in South Africa, transporting in excess of 15-million commuters each day," says CEO Leon van der Linde.
"After the lockdown is lifted, the taxi transport industry remains a weak spot in our country's fight against the transmission of Covid-19. 
"Taxis can become incubators for the virus, especially as it gets colder, which could lead to further lockdowns. 
"We want to circumvent this problem, which led us to become the first company in the world to develop a system for the dispersal of HOCL, an antiviral and antibacterial disinfectant, into vehicles." 
Van der Linde says HOCL is a disinfectant, scientifically proven to kill both viruses and bacteria on general and hospital surfaces, and has been shown to kill viruses such as the Avian influenza A (H5N1) virus and severe acute respiratory syndrome (SARS) coronavirus.  
It was added to the list of disinfectants for use against the Covid-19 (SARS-CoV-2) virus, published by the Environmental Protection Agency in the US, in March this year.  
"Social distancing is strongly encouraged to flatten the curve," says Van der Linde.
"[But], when things return to normal and people start using mass transport networks, we once again open ourselves up to infection. 
"Our ViroGOLD Taxi Sanitiser Protocol includes [an] air ventilation diffusor system of HOCL, as well as hand sanitiser and mask spray, which is non-toxic and safe to inhale. This will ensure that the entire cabin or vehicle is sanitised and safe for the transport of commuters. 
"Initially our focus will be on the taxi industry as it's our most sensitive public transport system at present. 
We plan to roll it out to other mass transport concerns such as bus companies in the near future." 
In its natural form, HOCL is produced by the body through white blood cells to combat infections.
ViroGOLD is safe for humans and animals, non-toxic and does not contain any carcinogenic elements, says Van der Linde.
CanbiGold has filed a non-provisional patent application at the American Patent Office. 
CanbiGold is a private company registered in South Africa. It specialises in the cultivation and production of medicinal cannabis and related products.