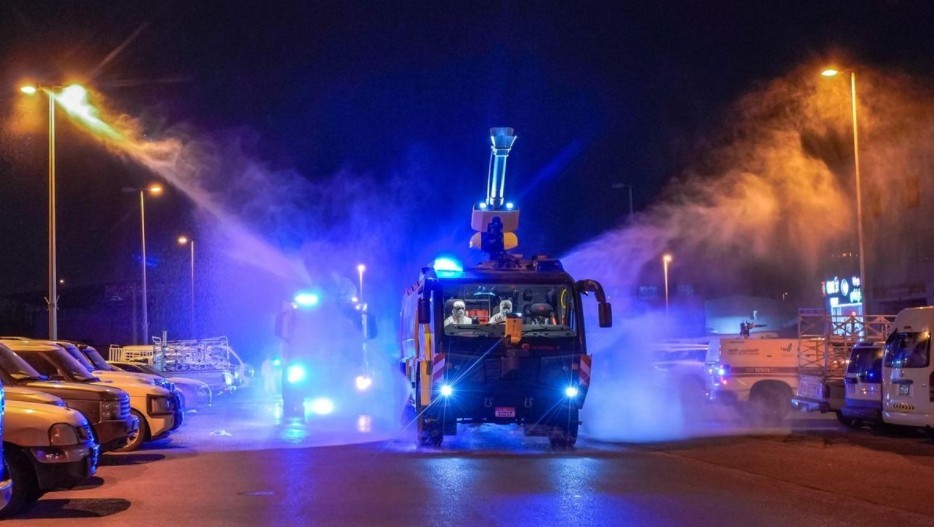 Scientists, academics and business leaders are pushing for a cheap, water-like disinfectant spray to be used more widely in Britain to contain the coronavirus outbreak.
The product was shown to be effective in countries including the UAE, China and South Korea.
Hypochlorous acid, or Hoci, is 100 times more effective as a disinfectant than bleach, killing germs and viruses immediately.
The non-hazardous, weak acid has been approved by the World Health Organisation and is harmless to plants and animals. It has a colourless, water-like appearance.
It has been used in the UAE's disinfection programme and has been central to South Korea's lauded strategy for containing the virus since March.
The country has some of the lowest coronavirus figures globally, with only about 14,000 people infected and fewer than 300 deaths.
Front-line workers in South Korea went to drive-through Covid-19 testing stations at the end of their shifts, where they stepped into booths and were showered in the disinfectant.
Health experts suggested the chemical could be sprayed on people as they walked through metal detector-style arches on their way into venues in Britain.
It could be a way to keep work offices, schools and entertainment venues safe as the country's lockdown eases.
"We should have used HOCl from the very start. It would have made a huge difference, but it's still not too late," Darren Reynolds, professor of health and environment at the University of the West of England, told The Daily Mail.
The spray is used in disinfection tunnels made by Dubai company Naffco, which is used at bus stops, train stations, in airports and in cinemas in the UAE.
The British government only this week allowed official trials of the disinfectant for use against Covid-19.
Its disinfectant of choice for healthcare centres is often sodium hypochlorite, which unlike hypochlorous acid is an irritant and corrosive.
The UK's Department of Health and Social Care did not respond immediately to a request for comment.
Trimite distributes sanitisation tunnels in the UK under the name of ShieldMe.
"The potential of fogging with hypochlorous acid is huge," Trimite chairman David Roberts said.
"We are currently in discussions with some Premiership rugby and football clubs, and we think our three-man tunnels are the solution for bringing spectators back into stadiums.
"There will be some queuing but it will take no longer to walk through a fogging tunnel than it will to go through a turnstile where you have to show your ticket."