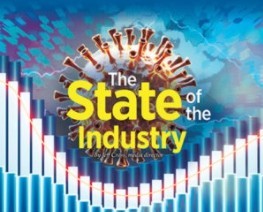 The never-ending year known as 2020 is behind us. Let's move on.
Nearly a year ago, we were keeping an eye on the coronavirus and anticipating its effects on the global cleaning industry, but we just weren't sure the extent to which it would ravage the world.
And ravage it did.
On March 11, 2020, when the pandemic was declared by the World Health Organization (WHO), many of us were preparing for only a few weeks of unknown challenges. Those few weeks turned into a few months, and now… here we are.
No one can keep up with the staggering effects of the pandemic and COVID-19. If I printed a number or status update in this feature article, it would be old news by the time you read it.
Hopefully, the darkest days of 2020 are behind us and, although we are still in the clutches of the pandemic, we have hope. The vaccine is being distributed. Companies and facilities, such as yours, are coping with ongoing issues so intense that you have spent many sleepless nights wondering what was coming next. But you woke up and got to work on making a positive difference. You are embracing technology and innovation that previously might have taken years to realize. As the cliché goes: There is light at the end of the tunnel.
2020 positives
This past year has spotlighted some positives, despite the grip of the pandemic.
The Global Biorisk Advisory Council™ (GBAC), a division of ISSA, has launched two fantastic programs and many training opportunities for the cleaning industry. GBAC STAR™ Facility Accreditation is now in more than 80 countries, helping facilities not only to reopen safely but to plan for the future, as they know the accreditation isn't just for the coronavirus but for future infectious events sure to come our way. GBAC STAR™ Service Accreditation is in its infancy but is growing and being used by building service contractors, disaster restoration professionals, and specialty cleaning services. It's a way to use accreditation for your company and set yourself apart from the competition. All the details for the accreditation programs can be found at gbac.issa.com.
The GBAC Fundamentals Online Course: Cleaning & Disinfecting Principles helped nearly 20,000 industry professionals quickly learn and apply the technical expertise they needed to battle the coronavirus and properly clean and disinfect surfaces in all types of buildings.
Then there is the news. Reports from all around the world prove that cleaning professionals have stepped up their game and are pushing through challenges that, on paper, would look impossible to overcome. I salute you and admire you for all you have done. With all that has happened, and with what is coming our way in the next several months, I asked the ISSA board of directors to report in and provide some guidance for ISSA members and the global cleaning industry.
In this report, you will discover expertise that will help you with your facility, company, or organization in the coming months. If it doesn't help you with specific strategies, it will help you mentally prepare for the future.
This State of the Industry report features these five ISSA board members:
Q: During 2020, what has kept you awake at night and really challenged you?
Steve Lewis, ISSA president
Mostly what keeps me up at night is thinking about action plans for things that are out of our control. One example is the government shutting down non-essential businesses in California, which is the ninth-largest world economy. Just think about the effect it will have on the overall United States economy.
Nick Morris, ISSA distributor director
The broken global supply chain has been a real challenge this year but has also created many opportunities. As many of our traditional key suppliers have not been able to keep up with meeting all of the market demand, we have been able to source new suppliers and quickly bring alternative products to meet our customers' needs.
Harry Dochelli, ISSA vice president/president-elect
First and foremost was the safety of our associates. As an essential business, we knew we had to stay open and support our customers in the safest manner possible.
Beyond this, it was trying to secure a supply of key items in high demand due to the pandemic. Supply chains became and remained strained on essential items, causing a disruption to our business and driving us to find new suppliers.
We also had to learn to communicate and operate with our company and our customers in a virtual manner. This included virtual town halls that we did internally and externally to stay in front of our people and our customers.
Ailene Grego, ISSA distributor director
At the beginning of the pandemic, we were in fight or flight mode. As a distributor, we are dependent on manufacturers to keep up with demand. As we all know, the supply chain broke. The operative word now is pivot. In uncertain times, how do we pivot our businesses with the ever-changing landscape? 
In the beginning, it was all about sourcing those difficult-to-find items. Now, we are more focused on post-COVID sustainability and growth.
The direction you pivot is vital to your longevity and must be a long-term solution to a short-term problem.
Andy Clement, ISSA manufacturer director
First and foremost was ensuring we were doing everything possible to keep our employees and their families safe. This has been a big challenge for all suppliers, distributors, and building service contractors this year. I am proud of how our team has responded to this crisis, with new safety features and operating protocols implemented that always put our people first.
Another critical challenge was transitioning to digital selling to support changing customer needs during this disruptive time.
Our industry, like most, grew up on face-to-face, in-person selling. Our team has done a great job utilizing tools like videos, webinars, and other online experiences to engage and interact with our distributors and end users. We also learned the best way to increase your close rate is to have your camera on when making sales calls!
It's a journey that continues, but we've compressed many new and invaluable learning tactics in such a short time frame.
Q: What has surprised you the most about 2020, and what can we learn from it?
Lewis
How quickly people adjusted to holding virtual meetings for introducing new products or conducting training sessions. We have realized this is a big-time cost savings, and going forward, virtual meetings will be widely used as part of our daily business practices.
Morris
It has been amazing to see how quickly we have been able to adjust our business to meet unmet market demand and to create both short and long-term opportunities that have presented themselves due to the challenges that the pandemic has presented. We quickly developed:
An online marketplace to assist consumers and small businesses to be able to get hard-to-find items.
A manufacturing capability and the ability to develop relationships with contract manufacturers to be able to get hard-to-find items.
A platform that assists customers in having clean and safe facilities. This platform uses the ISSA GBAC STAR assessment to develop a customer baseline and then offers product and procedure recommendations, training, and marketing, including third-party certification.
Product bundles that highlight pandemic related items that are in stock and available.
A digital marketing application that assists in virtual selling, and also allows our sales consultants to direct customized messaging to customers and prospects.
The ability to source and commercialize new products and product categories quickly and effectively.
Dochelli
I think we became more nimble and agile as a company, focusing on the more important challenges and solving those quickly.
I am also surprised by how we have adapted to the work-from-home/virtual environment and what this may mean for the future of our business.
Grego
For the past eight years, we have been speaking with people about the benefits of using HOCl (hypochlorous acid) for cleaning and disinfection, and very few were eager to make the move. Once the pandemic hit, everyone was looking for safer solutions, and the adoption rate was overwhelming. I learned that if you are passionate about changing the world, you must stand by your convictions.
With enough education, people will begin to understand and adopt new practices because, at our core, we all want to make this world a better and healthier place to live.
Clement
The speed and effectiveness of our industry's response to the pandemic have been nothing short of heroic in many ways. Cleaning products have gone from being somewhat mundane to essential protection options for workers away from home.
A great example of our industry's response has been the GBAC Fundamentals Online Course, where cleaners from all over the world have been trained. At Kimberly-Clark, we were proud to fund scholarships that so far have enabled over 5,000 building service contractors and in-house service providers globally to obtain this training.
As an industry, we've turned an important corner in public perception about the importance and the essential nature of the products and services we provide people and institutions.
Hygiene and personal care have never been more top-of-mind, and that will only continue to be the case moving forward as the world's population grows and urbanization continues.
Q: As we head into 2021, what are your expectations and predictions for the global cleaning industry?
Lewis
For the most part, we see business in 2021, starting at a slow pace for the first quarter, then picking up in the second. Hopefully, by the third quarter, we will be seeing our new normal for the industry as the vaccines become available to more people.
With this, you should see companies start allowing employees to return to their facilities. At which time, the demand for cleaning products should increase due to the extra precautions that facilities will be taking to ensure they are doing everything possible to minimize the pandemic risk.
Morris
The pandemic has definitely changed the way that the world views cleaning. It is now considered critically important and, in many cases, creates a competitive advantage for those who can demonstrate that they have healthy and safe facilities. 
We expect that cleaning will continue to remain important in 2021. As a vaccine is widely distributed, cases decline, and the world opens up again, we will see increased demand for our product categories and services.
Dochelli
I believe there will be a new standard of cleaning that will be expected as we come into 2021 and beyond that will bode well for the industry.
Grego
After the year we've had, I think having any expectations is dangerous, but I do predict that we are facing a new normal that will change the cleaning industry forever. 
Some people will return to work in their office, and some won't. Consumables will be down for another year, but cleaning and disinfection will be in the forefront moving forward. You will see more automation, and budgets will be spent on increasing cleaning and disinfection frequencies.
I also believe there will be more widespread adoption of safer, non-toxic cleaning and disinfection solutions.
Clement
I think the roller coaster ride will continue in 2021 as it did in 2020. During the first half of the year, essential products like wipes, hand sanitizers, and masks will continue to be in high demand.
After a vaccine is widely available, we expect more traditional categories like towels and tissue to rebound as business-to-business facilities reopen.
Additionally, I expect industry consolidation to continue to pick up speed, especially among distributors.
Q: What, if any, trends have you seen over the years that are either disturbing or encouraging?
Lewis
One of the most significant changes I have noticed since the start of my career is better documentation.
In the past, we used to spend countless hours on the telephone with a pen and paper taking notes of the phone calls. In some cases, months later, there would be disagreements, causing everyone to compare their notes. Now we have moved to emails, and everything is documented—whether for better or worse.
Second is the trend of pushing everything online, which is driven by consumer demand. With online ordering capabilities and more online product information and training platforms, it has become a higher priority to have 100% of the business available online.  
Morris
Interestingly, it took a global pandemic to highlight the importance of having clean and safe spaces. It is encouraging that our industry has been advanced to the front lines as a result. 
We are encouraged that, long term, the way that the world views cleaning has been elevated and that our products and services are of more importance.
Dochelli
Going forward, there is clearly a substantial shift to online ordering that must be factored into a distributor's strategy. I believe the distributor can no longer ignore this shift but rather embrace it and see how it can complement their current value proposition.
Grego
Automation is the first thing that comes to mind, although the current offering is not yet significant enough to eliminate jobs. For now, it is an enhancement to an already existing cleaning program. However, this will not be the end of automation. It will continue to get better and adopted at a higher rate over the next decade. Although many will be fearful of it, we should see this as an opportunity to enhance their programs. There is also a considerable need for continuing education courses, either through ISSA or through proprietary classes customized for the customer.
Clement
One of the more interesting trends we have seen has been the increased adoption of digital purchasing by our business-to-business (B2B) customers. We know that 70% of the buyer journey is now done online before they ever engage with a sales representative. And 33% of buyers don't ever want to interact with a sales professional again, as they would rather make their own choices using online information. And for those buyers who do want to see a seller, 74% say that even after a COVID-19 vaccine has been distributed, they would prefer that interaction be virtual versus in-person. These trends have large and important implications for our industry.
Q: Tell us your thoughts on buying groups and their role now and post-pandemic. Has their influence changed?
Lewis
Buying groups play a major role. They allow independently owned distributors, who service multi-location accounts on a national level with a consistent product, to maintain a single cost. There has never been a greater need for members to pull together in servicing customer needs. In some cases, they have shared inventories of items in high demand.
Morris
Buying groups bring three primary benefits to our company:
The capability to sell to global and national customers.
Better purchasing programs with preferred suppliers.
The ability to have relationships and network with the strongest distributors in our industry, co-create new opportunities, and uncover best practices.
Our affiliation with a well-known buying group has been invaluable. One of the most impactful benefits due to our affiliation is additional access to hard-to-acquire products. Many key suppliers have stepped up in supporting our needs for additional products for critical segments such as health care, first responders, and grocery. 
Dochelli
As supply chains became constrained, the buying groups played a role in sourcing hard-to-get products for their members. Post-pandemic, the buying groups still will have a role in sourcing and helping their members with best practices to grow their members' business.
Grego
As a member of a buying group, they helped us source the unattainable, find reputable substitutions, and helped us with products on allocation. When misters/sprayers/foggers were a hot commodity, they enabled us to source alternative items and to determine their fit in our market. 
Clement
Buying groups continue to be critical for suppliers like Kimberly-Clark. They make it easier for us to communicate with members of the buying group and help drive national accounts to large end users.
Q: Let's talk about "C-suite" strategies. What have you seen during the pandemic that is worth continuing? What strategies can you share for 2021?
Lewis
In 2020, we all had to look for alternative ways of meeting, usually on Zoom and Microsoft Teams. This has also provided everyone with cost savings regarding travel and entertainment expenses.
Additionally, we have discovered that our job tasks can be accomplished from remote work sites, reducing the need for expensive office space.
Morris
The cleaning function is no longer something that is viewed as just an operating expense. Cleaning creates either a competitive advantage or disadvantage and, therefore, is something that is now of interest to the "C-level."  
Whereas prior to the pandemic, often "C-level" team members did not want to involve themselves in the cleaning aspects of their businesses. But there is now a heightened level of interest in all things cleaning. It creates a tremendous opportunity for our industry to elevate our game and to make the type of positive impact in our society that we have often only been able to dream about.
Dochelli
During the pandemic, the most successful companies are the ones that have pivoted quickly to adapt to the new environment. This included the need to train their sales teams to be able to sell virtually. I believe this element will be here to stay, even after the pandemic, as people have learned how efficient this can be.
Companies also had to learn how to communicate more effectively and more often with their associates and their customers in a rapidly changing environment.
Also, as stated earlier, recognizing the shift to online ordering and the need to offer a broader assortment along with a good digital experience is going to be key.
Many of us will have to revisit our value proposition to ensure that it will be relevant in the new normal.
Grego
The jansan industry as a whole has been slow to adopt technological advances in enterprise resource planning (ERP) systems, customer relationship management (CRM) systems, video conferencing, social media, web interface, and more.
The pandemic forced us to quickly adapt to video conferencing and has shown us that it is possible to conduct business in ways we are not accustomed to. It's not ideal, as our business is still based on relationship selling; however, given some people will continue to work from home for the unforeseeable future, we all must adopt these new technologies and learn to work them to our advantage. A web order entry system is required, not a luxury, and you will become extinct without it.
Clement
We've compressed a lot of new learning and innovation into a relatively short time period, and much of that will be applied to our business moving forward.
I mentioned the customer-experience moving further into the digital realm, so there will be new applications and innovations coming into play here in the coming year and beyond. Part of that will be enhanced by the internet of things (IoT) in the washroom. 
This past year also required us to embrace new learning and agile ways of working. This will only continue to accelerate as we align our business behind the realities of a post-pandemic world.
It's an exciting time to be in this industry. We see it first-hand with the way our employees are responding and the pride they sense in being part of such an essential business. Our customers are relying on our expertise and insights more than ever before.
Together, we're creating a culture focused on customer care, innovation, and continuous learning.